Thomas F. Segalla
Partner
Experience
Thomas Segalla is a nationally recognized authority on bad faith, reinsurance, and insurance, an ARIAS-U.S. Certified Arbitrator and mediator, and a founding partner of the firm. He has been retained as counsel and as a consultant by numerous major insurance carriers and policyholders in more than 40 jurisdictions nationally and internationally, and has served as an expert witness in more than 100 bad faith, coverage, and extracontractual cases across the country. His practice focuses on the insurance coverage, and claims-handling process of matters involving bad faith; defense; construction site personal injury accidents (Labor Law §§ 200, 240(1) and 241(6)); toxic tort and environmental issues; and extracontractual, product liability, professional liability and railroad litigation. He also has experience representing and advising life science, pharmaceutical, and medical device industry clients. In 2016, Tom was honored with the Distinguished Alumni Award for Private Practice by the State University of New York at Buffalo Law Alumni Association in recognition of his contributions to the legal profession and the community in which he serves.
Tom is the co-author of the renowned insurance law treatise Couch on Insurance 3d and editor of the Reinsurance Professional's Deskbook published by Thomson Reuters and DRI, and he has published and lectured extensively for many professional organizations and provided in-house training for clients. As a member of the Defense Research Institute (DRI), he currently serves on the organization's Publications Board and Barrister Task Force and has previously served as Chair of DRI's Insurance Law Committee, Chair of its Law Institute, and a member of its Board of Directors. Every year, DRI awards the Thomas F. Segalla Excellence in Education Award to a DRI member. In addition, as a member of the Federation of Defense and Corporate Counsel, he is integrally involved in the relationship between the insurance industry and defense counsel.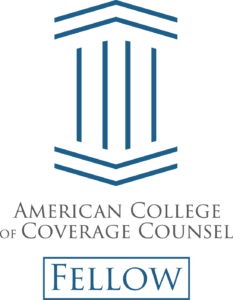 Tom is the immediate past president of the American College of Coverage and Extracontractual Counsel (ACCEC), an organization which brings together the top insurance lawyers representing insurers and policyholders in the U.S. and Canada to focus on the creative, ethical, and efficient adjudication of disputes between policyholders and insurers over insurance coverage as well as extracontractual damages. The ACCEC also awards the Thomas F. Segalla Service Award to both a policyholder and a defense lawyer every year. Recently, Best Lawyers in America named him Buffalo Insurance Law "Lawyer of the Year" and the Defense Association of New York (DANY) presented Tom with its 2014 James S. Conway Award for Outstanding Service to the Defense Community.
Related Areas
Honors & Awards
Thought Leaders USA: Insurance and Reinsurance, Lexology and Who's Who Legal, 2024
America's Most Honored Lawyers 2023, Top 1%, The American Registry
Martindale-Hubbell Peer and Judiciary Review Rating: AV Preeminent
Top Rated Lawyer in Litigation, American Lawyer Media and Martindale-Hubbell, 2014
Lifetime Achievement Award, New York Law Journal, 2022
Best Lawyers in America
Insurance Law, 2013–24; Lawyer of the Year (Buffalo), 2019
Personal Injury Litigation — Defendants, 2013–24
Reinsurance Law, 2024
Upstate New York Super Lawyers, 2007–23; Top 50 List, 2008
2020 Insurance Coverage Law Center Editorial Advisory Board
Defense Research Institute (DRI) Louis B. Potter Lifetime Professional Service Award
Defense Research Institute (DRI): The Thomas F. Segalla Excellence In Education Award is given annually to a DRI member
American College of Coverage and Extracontractual Counsel (ACCEC): The Thomas F. Segalla Service Award is given annually to both a policyholder and a defense lawyer
Defense Association of New York (DANY) 2014 James S. Conway Award for Outstanding Service to the Defense Community
Buffalo Insurance Law "Lawyer of the Year," Best Lawyers in America 2014
Top Rated Lawyer in Insurance Law, American Lawyer Media and Martindale-Hubbell, 2013
Super Lawyers, Corporate Counsel Edition
Business First's Legal Elite of Western New York (Insurance), 2014
Who's Who Legal: Insurance & Reinsurance, 2014–19, 2023
Who's Who Legal: Product Liability Defense, 2015, 2018, 2023
Expert Guides: Insurance and Reinsurance
Who's Who in American Law
United Who's Who – Honored Lifetime Member
Presidential Who's Who Among Business and Professional Achievers
Distinguished Alumni Award for Private Practice, SUNY Buffalo Law Alumni Association
Housatonic Valley Regional High School Alumni Wall of Honor, inducted 2017
International Association of Business Leaders, Life Member, January 2004, for commitment to sound business practices and having earned a reputation in the business community for vision, performance and leadership
America's Registry of Outstanding Professionals, 2003–04
National Republican Congressional Committee's Business Advisory Council's 2003 Businessman of the Year
Background
Education
State University of New York at Buffalo Law School, J.D., cum laude, 1972
University of Miami, B.B.A., Department Honors, 1965
Professional Affiliations
American College of Coverage and Extracontractual Counsel: Immediate-Past President
Defense Research Institute: Past Chair, Publications Board; Former Member, Board of Directors; Former Board Liaison to the Insurance Law Committee; Past Chair of Law Institute; Task Force Member, American Law Institute; Member, Insurance Law Committee; Member, Barristers Task Force; Member, Life, Health and Disability Committee
Federation of Defense and Corporate Counsel: Insurance Coverage Section; Reinsurance, Excess and Surplus Lines Section; International Practice & Law Section; Toxic Tort and Environmental Law Section; Insurance Industry Initiatives Committee; Publications Committee; Insurance Symposium Committee; Extra Contractual Liability Section
FC&S Legal Editorial Advisory Board
American Association of Insurance Management Consultants, 2012 to present
International Association of Defense Counsel: Ethics, Insurance/Reinsurance, International and Toxic Tort sections
Law360 Insurance Editorial Advisory Board Member, 2016
British Law Association
Claims and Litigation Management Alliance: Insurance Bad Faith and Insurance Fraud Committees
International Association for Insurance Law
American Arbitration Association: Roster of Neutrals
National Foundation for Judicial Excellence: State Liaison
National Association of Railroad Trial Counsel
American Bar Association: Tort Trial and Insurance Practice Section
USLAW (former member)

Insurance Committee: Former Chair

New York State Bar Association, Environmental Law Section and Torts, Insurance and Compensation Law Section
General Building Contractors of New York State: Associate Member
Bar Association of Erie County
Western New York Trial Lawyers Association
Defense Trial Lawyers Association of Western New York
Insurance Club of Buffalo 1996: Director 1998–2001
Buffalo Insurance Claims Association, 1972 to present
Utica Insurance Claims Association, 1990 to present
Chartered Property Casualty Underwriter: Matriculated Student
New York State Insurance Department (CPCU Sponsorship): Continuing Education Instructor
Claims and Litigation Management Alliance: Insurance Bad Faith and Insurance Fraud Committees
Scribes — The American Society of Legal Writers
Center for Advancement of Technology in Education (C4ATE): Board of Directors 2016 to present
Board Member for the National Foundation for Judicial Excellence, 2019 to present
Prior Experience
Couch on Insurance 3d (Co-Author), West Publications
"Meet The Experts," Matthew Bender & Co., Insurance Law
Mealey's Litigation Report: Insurance Bad Faith; LexisNexis 2004 to present
"Bad Faith Update," Mathew Bender & Co., Publication Advisory Board, 1999–2004
State University of New York at Buffalo School of Law: Adjunct Professor, Practice and Procedure, 1985–90
DRI — Uniform Billing and Reporting Guidelines for Defense Counsel and Insurers
Saperston & Day, 1972-2001

Partner, 1975
Consultant for two insurance companies, 1980s
Training and Certifications
ARIAS-U.S. Certified Arbitrator
News & Knowledge
Publications & Events
"Construction Defect Claims: A 2022 Update—Part II," (Co-Author)

Mealey's Litigation Report: Construction Defects Insurance

, March 16, 2023

 

"Construction Defect Claims: A 2022 Update—Part I," (Co-Author)

Mealey's Litigation Report: Construction Defects Insurance

, January 10, 2023

 

"Construction Defect Claims: A 2021 Update—Part II," (Co-Author), Mealey's Litigation Report: Construction Defects Insurance, April 2022
"Construction Defect Claims: A 2021 Update—Part I," (Co-Author), Mealey's Litigation Report: Construction Defects Insurance, March 2022
Reinsurance Professional's Deskbook: A Practical Guide, Chapter 5: "Types of Reinsurance Contracts" and Chapter 15: "Follow the Fortunes & Follow the Settlements" (Co-Editor-in-Chief and Author), Thomson Reuters, 2022 (Fourth Edition)
"Construction Defect Claims: A 2020 Update—Part II" (Co-Author), Mealey's Litigation Report: Construction Defects Insurance, May 2021
"Construction Defect Claims: A 2020 Update—Part I" (Co-Author), Mealey's Litigation Report: Construction Defects Insurance, November 2020
"Construction Defect Claims: A 2019 Update—Part II"  (Co-Author), Mealey's Litigation Report: Construction Defects Insurance, April 2020
"Construction Defect Claims: A 2019 Update—Part I"  (Co-Author), Mealey's Litigation Report: Construction Defects Insurance, March 2020
Profiled in "Late In His Legal Career, Segalla Remains Busy," Buffalo Business First/Buffalo Law Journal, November 12, 2019
"Tom Segalla Appointed to National Foundation for Judicial Excellence Board of Directors," July 10, 2019
Featured in "A Conversation With Thomas F. Segalla," DRI, March 20, 2019
"Courts Continue to Be 'Contaminated' by the Pollution Exclusion: A National Overview" (Co-Author), Thompson Reuters and Westlaw Expert Analysis, March 8, 2019
"Construction Defect Claims: A 2018 Update—Part I" (Co-Author), Mealey's Litigation Report, March 2019
Author, "Sails Are Adjusted!" DRI For the Defense, February 2018
Co-Author, "Construction Defect Claims: A 2017 Update—Part Two," Mealey's Litigation Report: Construction Defects Insurance, February 2018
Co-Author, "Construction Defect Claims: A 2017 Update—Part One," Mealey's Litigation Report: Construction Defects Insurance, January 2018

Co-Author, "U.S. Courts Struggle With Pollution Exclusions," Insurance Day, October 2, 2017
Co-Author, "The 'Irritating' Differences in Applications of the Pollution Exclusion Across the Nation: A National Overview of Pollution Exclusion Litigation," Westlaw Journal Insurance Coverage, August 18, 2017
Editor-in-Chief, Reinsurance Professional's Deskbook, 2017-2018 ed., Thomson Reuters and DRI, 2017
Co-Author, "The Pollution Exclusion Continues to 'Pollute' the Courts: A National Overview of Pollution Exclusion Litigation," Westlaw Journal: Environmental, Vol. 36, Issue 26, July 20, 2016
Co-Author, "Litigating and Protecting the Insurance Claim," Preparing for and Trying the Civil Lawsuit, 2d Ed., 2016 Rev., New York State Bar Association
Co-Author, "But Is It Really a Pollutant? A National Overview of Pollution Exclusion Litigation," Westlaw Journal: Environmental, Vol. 35, Issue 20, April 29, 2015
Editor in Chief, Reinsurance Professional's Deskbook: A Practical Guide, Thomson Reuters and DRI, March 2015
Author, "Class Actions: Insurance-Related Claims," FC&S Legal, February 24, 2015
Co-Author, "Going Global: Navigating Import and Export Safety Regulations," Food Manufacturing, February 10, 2014
Contributor to "Leading Coverage Lawyers: The Most Significant Insurance Coverage Decisions of 2013," Coverage Opinions, Vol. 3, Issue 1, January 8, 2014

Co-Author,

"FEMA Sends Warning About Time to Sue Over Coverage Disputes," DRI Today

, Defense Research Institute, December 2, 2013

Co-Author, "Emerging Trends and Changing Perspectives on Construction Defect Claims,"Mealey's Construction Defects, December 2013 (This article also appeared in Mealey's Construction Defects Insurance, November 2013)
Co-Author, "Will the FDA Kill the Caffeine Buzz?"Food Processing, September 27, 2013
Co-Author, "Simple Steps Can Protect Drillers: In Fracking, Practical Coverage and Risk-Shifting Can Ease Litigation Threats,"National Driller, March 2013
Co-Author, "Lead Litigation: Recent Trends and Key Strategies for Defense Counsel," New York State Bar Association Torts, Insurance & Compensation Law Section Journal, Winter 2012
Co-Author, "How to Evaluate the Emerging Risks of Nanotechnology,"Business Insurance, February 24, 2013
Co-Author, "Hydraulic Fracturing Holds Litigation Risks,"National Driller, January 2013
Co-Author, "Fifty States Of Mold Claims: A Comprehensive Survey of Defense Strategies, Coverage Exclusions, and Liability Implications Across the U.S.,"Mealey's Litigation Report: Mold, January 2013
Quoted in Law360, Business Insurance, Claims Journal, and Property Casualty 360 on the formation of the American College of Coverage and Extracontractual Counsel, November 8-9, 2012
Co-Author, "Taming Nanotechnology's Potential Risks," IndustryWeek, October 17, 2012
Co-Author, "Lead Litigation: Recent Trends and Key Strategies for Defense Counsel," USLAW, Fall/Winter 2012
Co-Author, "Construction Defect Claims: An Update (Part I)," DRI's The Critical Path (Newsletter of the Construction Law Committee), September 2012
Co-Author, "A First Look at the Coverage Implications of Hydraulic Fracturing," Thomson Reuters News and Insight, May 16, 2012; Westlaw Journal Insurance Coverage, June 2012
Quoted in "Advocates Call for Scaffolding Law Reform," Thomson Reuters News & Insight, April 4, 2012
Co-Editor, "Construction Site Personal Injury Litigation: Labor Law Sections 200, 240(1) and 241(6)," New York State Bar Association, 2007; revised in 2012
Author, "Construction Defect Claims: An Update," Federation of Defense and Corporate Counsel, February 26, 2011
Co-Author, "Mealey's Litigation Report: Insurance Bad Faith," Monthly 2010 (January to December)
Co-Author, "Construction Defect Claims: An Update," 2010
Co-Author, "Labor Law §200, 240(1) & 241(6) Update," Winter 2010
Co-Author, "A Unique Opportunity: Evaluating Your Firm's Diversity Initiatives," For the Defense, Defense Research Institute, July 2009
Co-Author, "2008 – A Year in Review for the Insurer: Misrepresentations in the Insurance Process," Mealey's Litigation, 2009
Co-Author, "Nanotechnology: Something So Little Should Not Be Allowed to Get Too Big!," 2009. (Nanotechnology has been considered by some to result in the next mass tort litigation, such as asbestos.)
Co-Author, "Guideposts for Defending Directors and Officers in a Good and Bad Economy," Spring 2009
Co-Author, "Construction Defect Litigation: The Impact of the Lamar Homes and J.S.U.B. Decisions," DRI, The Critical Path, September, 2008
Co-Author, "2007 – A Year in Review for the Insurer: Primary/Excess/Reinsurance—An Increased Focus," Mealey's Litigation Report: Insurance Bad Faith, March 2008
Co-Author, "Big Unknowns for 'Science of the Small,'" For The Defense, Defense Research Institute, May 2007
Co-Author, "2006 – A Year In Review for the Insurer:  How Discovery Can Impact Bad Faith Litigation," Mealey's Litigation Report:  Insurance Bad Faith, Vol. 20, No. 21, March 2007
Co-Author, "2005 – A Year in Review for the Insurer: The Right to Be Wrong," Mealey's Litigation Report: Insurance Bad Faith, Vol. 19, No. 19, February 2006
Author, "Punitive Damages Bait and Switch:  Juries or Judges; Individual Suits or Class Actions," Federation of Defense and Corporate Counsel Quarterly, Vol. 56, No. 1, 2005
Co-Author, "Workers' Comp Hot Sheet," for Quinlan's New York Workers' Compensation Law Bulletin, August 2005-present
Author, "The Use and Misuse of Expert Testimony in Municipal Cases Post-Daubert—A Current Consideration," For The Defense, Defense Research Institute, June 2005
Co-Author, "Silica:  Insurance Coverage Issues—An Update," Defense Research Institute, June 2005
Contributing Author and Editor, Insurance Bad Faith: A Compendium of State Law,  The Defense Research Library Series, 2004
Author, "Tort Reform: Legislation or Litigation—Where Does the Solution Lie?," Federation of Defense and Corporate Counsel, 2004
"Food Litigation: Tell Me What You Eat and I Will Tell You Who You Are!," Federation of Defense and Corporate Counsel, 2003
Author, "MOLD: Ways to Keep Abreast and Stay Current," Defense Research Institute, 2003
Author, "Property Damage Coverage: Now You See It, Now You Don't," Defense Research Institute, 2003
Author and Presenter, "Right of Privacy and Big Brother: Where Have We Been? and Where Are We Going?," Defense Research Institute, 2002
Author, "Insurance, Reinsurance and Self-Insured Retention: The Basics and Beyond," Federation of Defense and Corporate Counsel Quarterly, Vol. 52, No. 1, 2002
Author, "Punitive Damages Bait and Switch: Juries or Judges—Individual Suits or Class Actions," Defense Research Institute, 2002
Co-Author, "2000-2001 Survey of New York Insurance Law,"  52 SYR L. Rev. 449, 2002
Author, "If It Isn't Mold—What Is It? Sick Building and Indoor Air Quality," Defense Research Institute, 2002
Author, "Mold—A Substantive and Insurance Coverage Checklist and Case Update," Federation of Defense and Corporate Counsel, 2002
Author, "Bad Faith, A Case Update: What Has Occurred and Is Occurring in 2001-2002?," American Conference Institute, The Eight National Forum on Litigation, 2002
Author, "Bad Faith as a Continuum: From Claim to Trial," The Property Loss Research Bureau 2002 Claims Conference and Insurance Services Exposition, 2002
Author, "Defense Research Institute Recommended Case Handling Guidelines For Insurers; Defense Research Institute Recommended Case Handling Guidelines for Law Firms," 1999-2001
Author, "Bad Faith as A Continuum: From Claim to Trial," Federation of Defense and Corporate Counsel Quarterly, Vol. 52, No. 1, 2001
Co-Author and Editor, "1999-2000 Survey of New York Insurance Law," 51 SYR L. Rev. 563, 2001
Author, "Insurance Experts: The Need for a Proactive Challenge," Defense Research Institute, 2000
Author, "A Practical Tactical Approach to Declaration Judgment Actions (Update)," Defense Research Institute, 2000
Author and Presenter, "Bad Faith Avoidance: Who Set the Trap?," Defense Research Institute, 2000
Author, "Governmental and Industrial Claims in Gun Litigation and Coverage: Where To Go From Here?," ALI-ABA Course of Study Materials, 2000
Author and Presenter, "Bad Faith Avoidance: Who Set the Trap?," Defense Research Institute, 2000
Author, "Y2K Third Party Insurance Issues: Help! We've Been Sued Over Y2 Something," Defense Research Institute, 1999
Author, "Examination Under Oath: A Proactive Sword," Defense Research Institute, 1999
Author, "Bad Faith: What's Going on IN – CA, FL, NY & TX," Defense Research Institute, 1999
Co-Author, Couch on Insurance 3d, Westgroup, 1998
Author, "How to Win Early in Lead Paint Litigation," Federation of Defense and Corporate Quarterly, Vol. 50, No. 3, 1998
Author, "Misrepresentation on the Application Process: There Are Dangers in Those Lies," Defense Research Institute, 1998
Author, "Claims and Defenses for Personal Injury Within the Context of Premises Liability/Construction Site Injuries [New York Perspective]," Causes of Action Second, Vol. 9, Westgroup, 1997
Co-Author, "Anti-Subrogation, Additional Insureds and Other Related Issues," Construction Related Insurance Coverage Issues, Defense Research Institute, 1996
Co-Author, "A Tactical Approach to Declaratory Judgment Actions,"  For the Defense, Defense Research Institute, 1996
Co-Author, "To D.J. or Not to D.J.: What Then?," Insurer's Duties: A Coverage Perspective, Defense Research Institute, 1995
Author, "Federal Preemption-A Prime Case Reference," Federation of Insurance & Corporate Counsel Quarterly, Vol. 46, No. 1, 1995
"Has the Playing Field Expanded?–Bad Faith Claims Against Claims Professionals and Defense Counsel," CLM Annual Conference, Orlando, FL, March 13, 2019
Presenter, "Get to Know Your Expert—What Your Team Should Know," Western New York Paralegal Association, Buffalo, NY, October 24, 2018
Presenter, "How to Choose, Use and Lose Experts in Bad Faith Litigation," Bad Faith Litigation Strategies ExecuSummit, May 5, 2015

Presentation, "Pssst … Secrets of Highly Successful Law Firms," Federation of Defense & Corporate Counsel (FDCC) Annual Meeting, West Sulphur Springs, West Virginia, July 31, 2014

Presenter, "The Insurance Process: The Need to Be Clear!" DRI Civil Rights and Governmental Tort Liability Seminar, New Orleans, LA., January 30, 2014

Panelist, "Keeping the Big Bad Wolf Out—The Three Little Pigs and Cyber Risk: Preventing Your Home and Business from Becoming Bacon 'Bits,'" FDCC Annual Meeting, Colorado Springs, CO, July 28–31, 2013
Panelist, "They Did What? Malpractice Claims Against Coverage Counsel," American College of Coverage and Extracontractual Counsel Inaugural Meeting, May 7, 2013
Presenter, "An Inconsistent Model: Varying States' Interpretations of Unfair Insurance Claims Practices," ACI Bad Faith Seminar, Orlando, Fla., November 28, 2012
Panelist, "Hurricane Sandy: New Frontier, Lessons Learned," Webinar, Claims and Litigation Management Alliance, November 15, 2012
Presenter,  "Flat Fee Agreements:  Do They Pose a Risk of 'Bad Faith' Exposure?," Claims & Litigation Management Alliance, September 2012
Presenter, "The Law of Claims Practices," The Center for Risk and Responsibility, Rutgers School of Law, Camden, February 29, 2012
Presenter, "The Marcellus Shale Boom and Its Legal Implications," Federation of Defense and Corporate Counsel Winter Meeting, Phoenix, AZ, March 8, 2012
Presenter,  "Preventing Bad Faith Claims: Lessons Learned from the Past and Issues of the Future!," "Bad Faith as a Continuum: From Claim to Trial," and "Bad Faith: The Admissibility of Expert Testimony and the Challenges That Follow", American Conference Institute, Orlando, FL, November 2011
Presenter,  "The Attorney-Client Privilege Basics and Beyond!," FDCC Insurance Industry Symposium, November 2011
Presenter, "Preventing the Bad Faith Claim" and "Trying The Bad Faith Case," Council on Litigation Management Bad Faith Conference, Boston, September 16, 2011
Presenter,  "The Case for Self-Interested Civility" and "Tripartite Interaction and Ethical Obligations and Prohibitions Facing Counsel," FDCC Annual Meeting, July 2011
Presenter, "Bad Faith Trends: The Players and Playing Field," Defense Research Institute's Bad Faith and Extra-Contractual Liability Seminar, Washington, D.C., June 24, 2011
Co-Presenter, "To Cover or Not to Cover: An Update on Insurance Litigation and Legislation Related to Claims Arising from Chinese Drywall," Federation of Defense and Corporate Counsel, February 26, 2011
Moderator, "Prophylactic Measures to Reduce/Shift the Cost of Recalls," USLAW Network Spring Conference, Charleston, SC, March 2009
Presenter, "Current Trends and Issues Impacting the Reinsurance Industry," Hawksmere International Reinsurance Congress, Hamilton, Bermuda, October 2008
Presenter and Co-Author, "The Unsettling Nature of Right to Settlement Provisions in a Professional Liability Policy," Federation of Defense and Corporate Counsel Annual Meeting, February 2008;  Federation of Defense and Corporate Counsel Quarterly, Vol. 56, No. 1, Fall 2008
Presenter, "Nanotechnology:  Something So Little Should Not Be Allowed to Get Too Big," Federation of Defense and Corporate Counsel Winter Meeting, March 2007.
Presenter, "Trends in Bad Faith Litigation," Kansas Association of Defense Counsel, December 2006
Presenter, "DRI Food Liability—New Issues, New Strategies," November 2006
Presenter,  "Bad Faith as a Continuum:  From Claim to Trial," DRI Southern Regional Meeting, June 2006
Presenter, "Misrepresentations in An Insurance Application: There Are Dangers in Those Lies," Federation of Defense and Corporate Counsel Mid-Winter Meeting, 2006
Presenter, "The Impact of the Medicare Secondary Payer Act on Workers' Compensation and Liability Cases," Defense Research Institute Insurance Roundtable, April 2005
Presenter and Co-Author, "Insurance Issues Involving Municipalities—At a Glance," Civil Rights and Governmental Tort Liability Seminar, Defense Research Institute, January 2005
Presenter, "Y2K Third Party Insurance Issues: Help! We've Been Sued Over Y2 Something," Defense Research Institute, 1999
Presenter, "Reinsurance:  The Basics," "Nursing Homes and Related Health Care Liability and Insurance:  Are There Any Trends?," "Insurance Defense and Coverage," "Bad Faith and Extra Contractual Liability," "Labor Law 200, 240, 241," "Toxic Torts and Environmental," presented for the Federation of Defense and Corporate Counsel; Defense Research Institute; New York State Bar Association and the International Bar Association
Co-Presenter, "GIS Webinar: Understanding the Implications of the New Jersey Insurance Fair Conduct Act (S2144)," GIS Webinar, August 16, 2018
Presenter, "Reducing Insurers' Bad Faith Litigation Exposure in Reasonable Settlement Offers," LIVE Webcast, The Knowledge Group, March 2, 2017
Presenter, "Singing in the Rain: Learning How to Network, Ethically And Effectively, in a Brave New World!," Federation of Defense and Corporate Counsel Webinar, December 2012