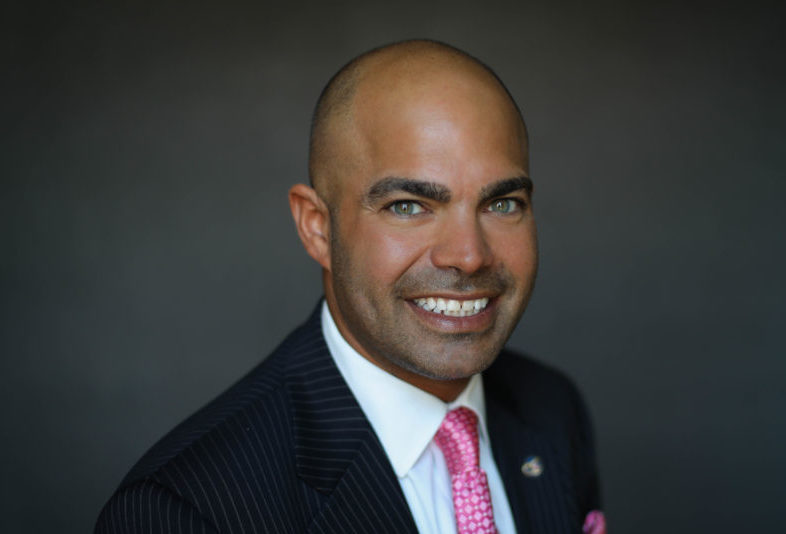 Joseph M. Hanna is a commercial litigator and legal adviser recognized for his work in retail and hospitality. National retail and restaurant chains, global hotel and hospitality enterprises, shopping centers, property owners, and developers rely on Joe to find creative and cost-efficient resolutions to disputes with other parties, to represent them in commercial litigation, and to handle a broad array of legal and business challenges. With a national practice and industry-wide reputation for leadership, Joe is consistently ranked among the top 10 attorneys based in Western New York in Business First's annual Legal Elite, and in 2015, Joe was the youngest honoree ever to be named Lawyer of the Year in the Bar Association of Erie County's 130-year history.
Joe also represents major-league sports franchises, professional athletes, movie studios, and others in the sports and entertainment world on a wide range of high-value matters involving licensing, contracts, and day-to-day business management. Joe is the founder and chair of Goldberg Segalla's Sports and Entertainment Practice Group, chair of its Retail and Hospitality Practice Group, and editor of the Sports and Entertainment Law Insider blog.
Joe is a leading voice for diversity in the legal and business communities. He is chair of Goldberg Segalla's Diversity Task Force and has held multiple leadership roles in the Leadership Council on Legal Diversity (LCLD) as well as diversity-related positions within the American Bar Association (ABA), DRI, and other organizations.
Joe is the founder and president of Bunkers in Baghdad, a nonprofit that collects and sends golf equipment to U.S. soldiers and veterans worldwide to aid in recreation and rehabilitation from injuries. An accomplished mediator, he is also a member of the International Institute for Conflict Prevention and Resolution's Panels of Distinguished Neutrals, a group of global leaders in providing and promoting alternative dispute resolution.
A Law360 Rising Star in 2014 and now a member of the organization's Sports Editorial Advisory Board, Joe is nationally renowned a for his work in media and entertainment law and for his authorship of leading articles on high-profile issues in these areas — including the first truly comprehensive examination of the legal issues in the National Football League concussion litigation controversy.
Joe is widely recognized for his extensive work as an innovator, mentor, author, editor, and speaker on diversity and inclusion in the legal world. He has held diversity-related leadership positions at national organizations like DRI as well as the ABA, where he served for several years as chair of the Minority Trial Lawyer Committee and editor-in-chief of Minority Trial Lawyer. He has received accolades that include the Minority Corporate Counsel Association George B. Vashon Innovator Award, the New York State Bar Association Diversity Trailblazer Award, and the University at Buffalo George W. Thorn Award. In 2014 Leadership Council on Legal Diversity (LCLD) selected Joe for their Fellows program; he now chairs the New York chapter for the LCLD Success in Law School Mentoring Program. He is also a mentor with New York Legal Education Opportunity (NY LEO), an organization designed to ensure a diverse legal community by promoting academic success in law school for individuals historically underrepresented in the legal profession, and administered through the New York State Judicial Institute.
In 2014, Joe was one of just over 160 lawyers under 40 in the entire country to receive Law360's Rising Star honor, and one of only five in the Media and Entertainment category, that year. In 2017, the American Bar Association (ABA) placed Joe on its prestigious "On the Rise — Top 40 Young Lawyers" list, honoring him alongside only 39 others from a competitive crop of over 2,800 nominees nationwide.
Honors & Awards
Martindale-Hubbell Peer Review Rating: AV Preeminent
Chambers USA Diversity and Inclusion Awards, Outstanding Contribution to Furthering the Advancement of Diversity in the Legal Profession (Private Practice), 2019
Upstate New York Super Lawyers, Rising Stars 2013–19
Buffalo Business First's Legal Elite of Western New York (Commercial Litigation), 2018-19; Top 10, 2014 and 2015
George W. Thorn Award, SUNY University at Buffalo, 2018
ABA "On the Rise — Top 40 Young Lawyers," 2017
Bar Association of Erie County, Lawyer of the Year, 2015
New York Law Journal Rising Stars, 2015
Legal Service Award, Minority Bar Association of Western New York, 2014
Law360 Rising Star (Media and Entertainment), 2014
All-Tournament Team and First Place Team, National Collegiate Golf Association Northeast Regional, Syracuse University, Spring 2014
ABA Section of Litigation Most Dynamic Committee Award, 2013
Lawyers Cup Champion, Minority Corporate Counsel Association 10th Annual General Counsel Invitational Diversity Leadership Summit Golf Tournament, June 2013
Minority Corporate Counsel Association George B. Vashon Innovator Award, 2012
Value Award for Diversity, Leadership Buffalo, 2012
New York State Bar Association Diversity Trailblazer Award, 2012
National Federation for Just Communities of Western New York Legal Community Leader Award, 2012
American Bar Association's Section of Litigation Good Works Award, 2012
Buffalo Spree Game Changers, 2012
Winner (with Christopher J. Belter), Minority Corporate Counsel Association 9th Annual General Counsel Invitational Diversity Leadership Summit Golf Tournament, 2012
Defense Research Institute's Community Service Award, 2011
22nd Annual University at Buffalo Law School Students of Color Trailblazer Award, 2011
Daily Point of Light Award
40 Under 40 Award, Business First, 2010
American Bar Association's Outstanding Chair for 2010
2010 New York State Bar Association Outstanding Young Lawyer Award
The President's Volunteer Service Award, 2010
Fellow of the New York State Bar Foundation
Buffalo Niagara Human Resource Association (BNHRA) Diversity Excellence Award
Minority Bar Association of Western New York, Inc. Community Service Award, 2009
New York State Bar Association featured article of the month, "The NFL v. Cable Television: Which Heavyweight Will Be Left Standing?," May 2008
Leader Spotlight, DRI's The Voice, April, 2008
The American Bar Association magazine General Practice, Solo & Small Firm Division named "Beware of Dawg, Beware of Owner, Too" the best intellectual property article published in 2006
DRI's Young Lawyer of the Year Award for Outstanding Service, 2007